Source Official Blog: http://blog.nogizaka46.com/sayuri.matsumura/2018/08/046310.php
2018/08/04 14:00
It's Matsumura Sayuri!



Today and tomorrow,
at Yanmar Stadium Nagai
we're holding a LIVEE ☆



I'm really looking forward to it~ ♡ but
the continued heatwave…


Today is also hot!!


Yanmar Stadium Nagai is also
super hot!



I think that the sunlight is weaker in the evening,
but if you are sitting in direct sunlight…


It'll be super hot still~ (;ω;)!



Countermesures for the heat, Countermesures for heatstroke.
Please take them and be prepared (;ω;)


I hope everyone can enjoy (the Live) until the very end!
I hope we can make happy memories today.


I also am not good at handling hot weather,
so I'll be careful (`・ω・´)!




With that said, to everyone in Osaka,
Hope to see you soon♡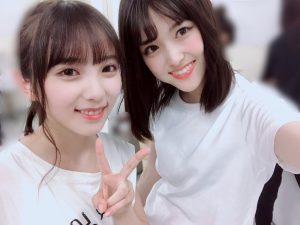 ---
Translated by: Veliem
Edited by: Conjyak