Source Official Blog: http://blog.nogizaka46.com/kotoko.sasaki/2018/05/045036.php
2018/05/25 17:18
Good evening.
During the Under Live Chūbu Series (the region of Japan between Kantō and Kansai),
I caught a cold and it made things difficult, but many things happened so it was still fun.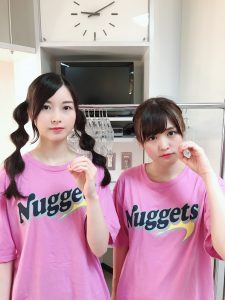 I found and bought a Nuggets T-shirt,
and I gave one to Karin-chan as an early birthday present.
It's the Nuggets pose.
I asked the makeup-san to give me a Nuggets hair style.
There are 6 pieces of Nuggets.
There are group photos and two-shots during the Under Live Chūbu Series
are posted by other members, so please check them out.
There is a picture with Aizawa Risa-san on Sakai-san's Instagram account.
Check it out.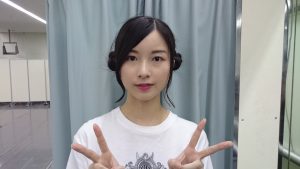 By the way,
Did you guys watched Zen Gundam Dai Tōhyō?
I was nervous, but it was very fun!
I'm very grateful to the various people around me that helped me out.
Because of this program,
I'm currently watching Mobile Suit Gundam W.
There are other shows that I'm interested in as well, but I plan on watching them at my own pace.
I think in the 00 audio commentary or something, they were debating whether they're similar or not, so I'm watching Gundam W first.
Since I loved the OP and the ED, I bought the CD and put them in my favorite playlist and listen to it.
By the way, I wonder what they're saying in the intro, interlude, and outro of JUST COMMUNICATION.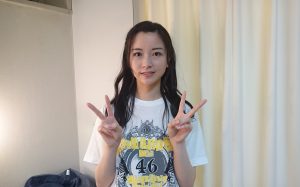 I showed the makeup-san a picture of Kyari-san's when she performed at Budōkan, and asked them to imitate it for me.
Last night, as I was looking something up on my smart phone while under the bed covers, my right eyelid towards the nose was itchy so I was scratching it and it got swollen and it was getting hard to open my eye.  So I got up and looked in the mirror and only my right eyelid looked like a single eyelid (as opposed to a double eyelid) and it looked funny.
In the morning, it was back to a double eyelid but it feels a bit like there's extra skin there.
I should've gotten a picture.


Anyways, I'll do my best.
---
Translated by: Veliem
Edited by: Conjyak